*Interrupting regularly scheduled programming*
It's here!!
The first issue of The Rhap goes out today so if you haven't already subscribed, what have you been doing with your life for the past week? But no fear! Sign up through the month of June and you'll still get the first issue right in your inbox.  Sneak peak of what's included below 🙂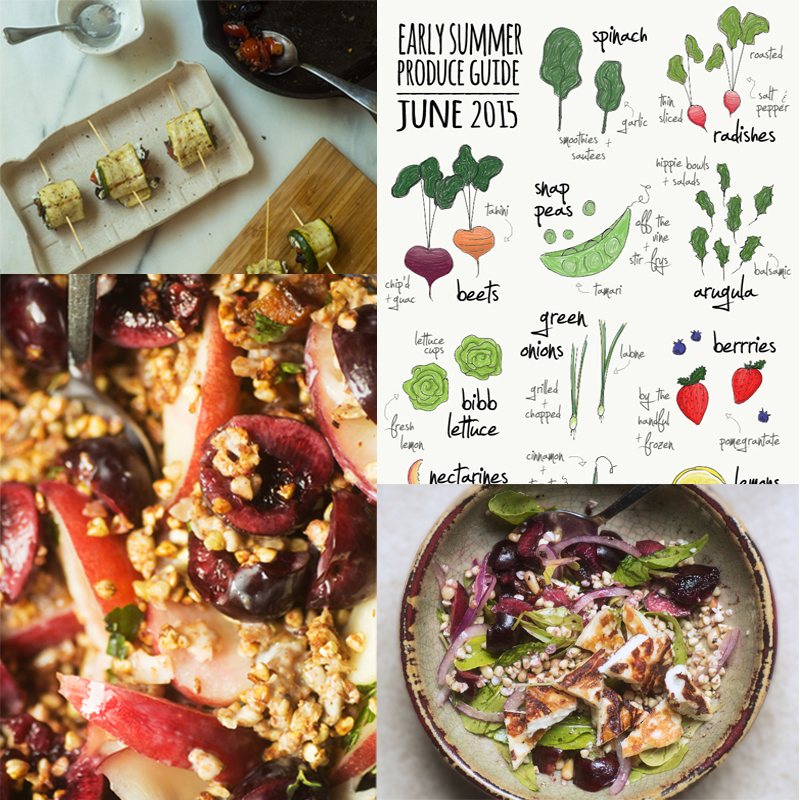 Remember, content in The Rhap is exclusive to subscribers, so it won't be available on the blog archives for a few months.  And since it's a season-centered kinda publication, an early summer market guide in late august isn't gonna do much for you.  AKA subscribe now. It's free and it's really, really good (there's even videos! <- sign of a killa newsletter)
*Steps off soap box and goes back to regularly scheduled posting*
It's Friday! And it's also the first edition of Veggie Rhap 13: Or in other words, foods from my fellow lovely people that have been exceptional as of late, monthly goals, and a large number of recipe tests that have turned out… not quite blog-ready.
Question: does anyone know some really good raw vegan desserts that don't need to be refrigerated? I'm birthday prepping and raw vegan (and chocolate and peanut butter) have been requested by the birthday-er in question.
In recipe testing
Still determined to make the Best Ever naturally sweetened/raw/grain free/soy free/vegan chocolate bars that don't need refrigeration. I've got my bag of cacao butter ready to go and naturally turned to the two nourishing sweets goddesses, Elenore and Sarah, who have this recipe.  The taste is ah-mazing, I just have to figure out a more shiny/snap-able method. But then again… naturally sweetened + fiber? Can't be beat.
Also roasting chickpeas has become a regular thing.  Working on a more-than-slightly-addictive cinnamon/chili combo for you guys. Also dehydrating because health.
And since I clearly decided to go big this week, I also went for the Life-Changing loaf (can you see how desperately I need Miss Sarah B's new book?) Naturally, I had to make it nut/grain free because bread you can't eat whenever you want is not worthy bread at all.  Going to work on some soaking and activating and seed ratios before I share it with you guys, but I'm not complaining at all.  Especially when raw honey and sheep's creme are involved.
This salad was a particular favorite these past couple weeks, and I WILL put that Mediterranean guac (as we have started referring to it as) on everything.
The first of dinners made entirely from one very cool cookbook. You guys are going to hear more about this soon.
Mulberry picking. Enough said.
Better bulk cooking and meal prep.  I'm so bad at this one. But I've had enough of canned chickpeas so it's about time to start soaking and freezing I think.
Mastering fish. I grilled my first whole trout and it was epic, but I still haven't mastered any form of fish seasoning.  Which sucks because fish is good stuff.
Finding the best naturally sweetened ice cream/juices in NYC. Suggestions? I'm thinking here, here, or here (or maybe here ?) Also absolutely determined to make it to here, and of course Union Square Greenmarket
Midsummer's Eve garden party! so. excited. This has to be one of my absolute favorite holidays ever (weird I know, I blame my hippie childhood 🙂 Get ready y'all, it's gonna be a good one.
Determined to master the grain-free taboolee. Quinoa doesn't really jive and cauliflower was a little too… cauliflower-y. Buckwheat's up next on the list
This seasoning mix is so much better than expected and has been going on anything and everything
grilling lemons (or roasted!).  In all things.  Also, you can bet coconut bacon is a thing.
And that's it! I'll be back in a little while with a pretty cool, very seasonal snack.  Until then!