Lots of meals via the gram from the past few weeks which are inaccurately represented because let's be real my diet at this point is 60% acai bowls anyway.  Apparently that's what happens when you're on a hardcore elimination diet that strips you of your favorite food groups (RIP tahini) and replaces them with a shit ton of supplements that taste like kool-aid.  I think. I can't actually confirm what kool-aid tastes like but if it's sweet berry nastiness then bingo.  Luckily I already feel 100x better so if cheese and almonds could reappear in my life that'd be good thanks.
So the food!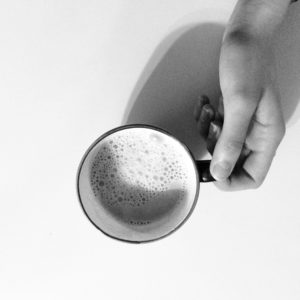 Cafe Gratitude's turmeric latte on repeat bc anti-inflammatory all day everyday- dates, hemp, hot water, turmeric, sea salt, cinnamon and vanilla blended until frothy.  Weirdly latte li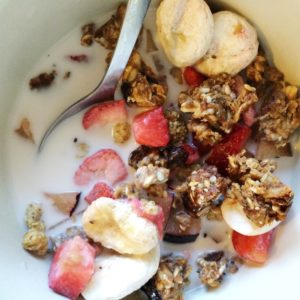 Crumbled apricot/quinoa super seed granola bars, freeze dried strawberries and bananas, cashew milk, plums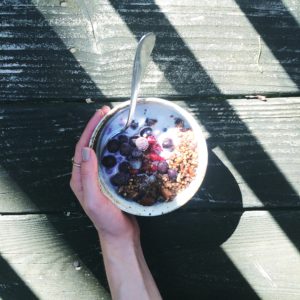 Stovetop buckwheat granola, frozen berries, hemp milk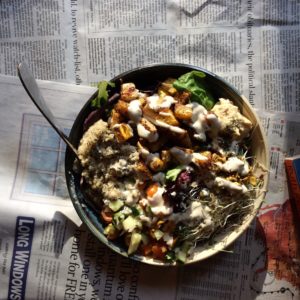 Quinoa pilaf, mixed greens, cucumber/tomato salad, sprouts, roasted butternut and cauliflower, sunbutter sauce.  All the Cava cravings.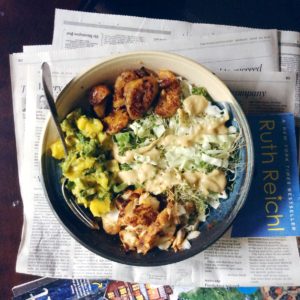 Panfried plantains, shredded green cabbage w/ lime/salt/honey/olive oil, mango avocado salsa and jerk cod from SK Bowl+Spoon, bao-nnaise (screenshot-ed the recipe during a feedfeed snapchat takeover.  S'good.)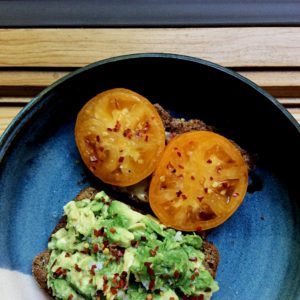 Avocado, creole tomatoes + bao-nnaise, both with chili flakes, evoo, flaky sea salt on sprouted quinoa/buckwheat/millet toast- recipe for bread coming soon too.  As soon as I, like, measure stuff.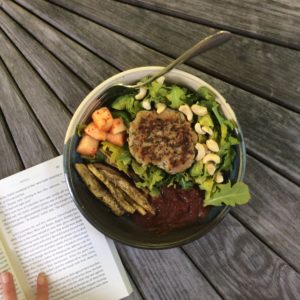 Zucchini turkey burger, crazy good kimchi daikon, toasted cashews, eggplant fries w/ herbs and nutritional yeast, ketchup on arugula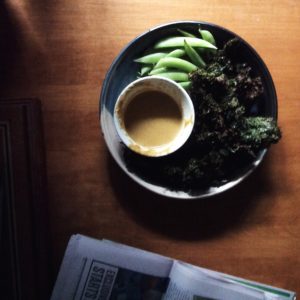 Sugar snap peas, cheesy kale chips (garlic powder, nutritional yeast, s+p), honey mustard sauce (raw honey, dijon, spicy brown, sunbather, ACV, H20)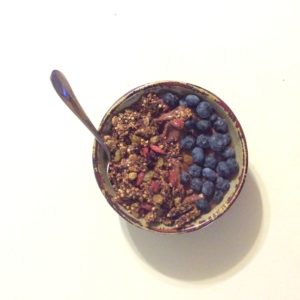 Acai bowl (recipe coming soon, swear), himalayan buckwheat clusters, bluebs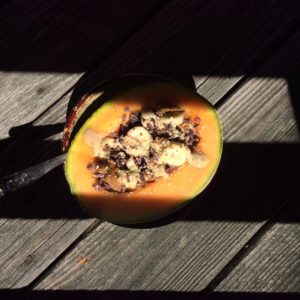 1/2 baby tuscan cantaloupe, frozen blackberries/banana, raisins, hemp hearts, cacao nibs, maca sunbutter sauce (obsessed? maybe?)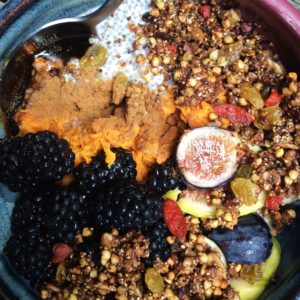 Steamed sweet potato, blackberries, chis pudding, figs, himalayan buckwheat clusters, date syrup inspired by Jeannette.  Weirdly insanely amazing on repeat.
Also on repeat: GKS's new smoothie book, which is seriously the bestest smoothie/juice book ever hands down, Amy Chaplin's soaked oats (I use toasted rolled quinoa)   with flax and chia- v good, as is everything in her cookbook, and the Twix Bars from Taline's app Hippie Lane which made my life because they're a. elimination diet friendly b. involve macadamias, c. like top 5 favorite desserts.  Also, no bake!